Welcome to Recyclistas...
Recyclistas is the hub of Greater Victoria's grassroots cycling community. We are a full-service bike shop, recycling depot and educational work space. We have a great selection of new and used parts and accessories and used bikes for sale. 
The bike shop has been a fixture in the cycling community since 2003. We empower community members through regular bicycle maintenance and repair classes.  We also divert waste by accepting used bikes and parts as donations and building as many bikes as humanly possible!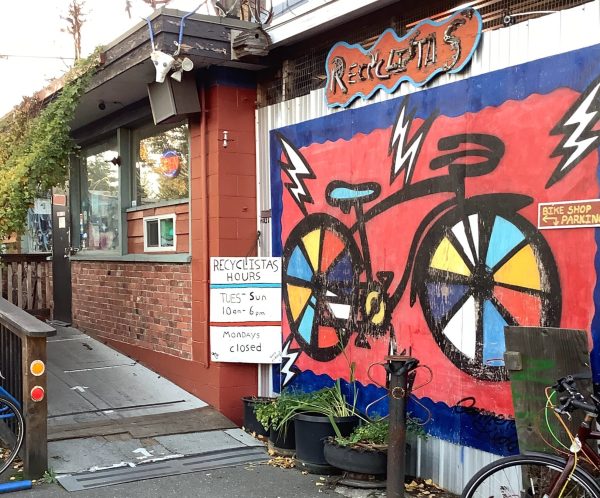 Discover the joy of bikes with us!
Travis Schwantje
2021-12-11
Like a candy store for used bikes and parts. Doing a build-a-bike class later, psyched for it!
Jesse Campbell
2021-11-18
Noticed a slow leak in my bike tire/tube, and just when it was getting bad–on my way home–I stopped by the shop. Super lucky it was quiet this evening, and I was seen to right away. Failure on my part not to get his name, but not only was my tube changed and my gear tension adjusted (it felt great on the ride home!), he found the tiiiny piece of metal and removed it from the tire. I am super relieved to have that sorted. Thank you so much for the help!! Will be visiting Recyclistas again for some overall maintenance ASAP 🙂 I trust my bike with these fine folks!
Michael Chepesiuk
2021-11-15
Knowledgable and friendly.
Solid small bike shop in Victoria and the dude (Shane i think) helped me with some shifting issues on my bike. Friendly service and good prices. Recommended for bike folks visiting the area.
Lots of good used parts, and advice from the bike techs. A good locale to find the parts to repair your old bikes. I've heard that this shop runs courses for bike repair!
I popped into Recyclistas to purchase some cantilever brakes. They had exactly what I needed. The service was friendly and helpful. The price was reasonable. All in all, I had a pleasant experience. I will definitely go back.
I just found this treasure of a bike shop and love what they do for the community and the planet! Ya team!!